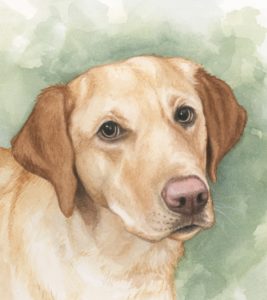 As animal lovers, our pets mean the world to us. A pet portrait can be a thoughtful and touching gift to the animal lover in your life, or a beautiful way to memorialize a beloved pet who has passed on. I would be honored to be a part of this most special bond by creating a custom portrait of your fur baby!
I can paint any type of pet: Dogs, cats, horses, birds, hamsters, etc.
I work in acrylic paint on 300lb hot press watercolor paper. A frame is not included
Please allow 2-3 weeks turnaround time (2 weeks to produce the painting, and a week to ship)
HOW IT WORKS
To order, click the link at the bottom of the page.
-Choose your size
-Purchase the listing
Price includes face & bust portrait of your pet, and a simple background color. For a more complex background, contact me first to get a custom quote
-Upon purchasing, EMAIL ME ( kristy@kguentherart.com ) a high quality photo of your pet that you'd like me to paint from (preferably in natural, outdoor light). If unsure about your photo, you can send me several choices and I will help you choose. PLEASE NOTE, THE POSE IN YOUR PHOTO IS THE POSE THAT WILL BE IN THE PAINTING.
-When you email me, please also tell me your preferred BACKGROUND COLOR.
-A photo of the finished product will be sent to you for your approval prior to shipping.
-The painting will be protected by a sealed plastic sleeve, and shipped inside a rigid cardboard envelope (up to size 11×14. Larger sizes will be packed in a flat shipping box.
-FRAME NOT INCLUDED
*Please allow 2-3 weeks turnaround time (2 weeks to produce the painting, and a week to ship)*